A group of Maryborough men got together at the Bull and Mouth Hotel for a drink in 1872 and decided to have a regular kick of the footy.
Key points:
Maryborough Football Netball Club was founded by a group of keen players in 1872
For the first time in six years the club has an under 18s side
The club will celebrate its 150th with a ball in June
Now, 150 years on, the Maryborough Football Netball Club is still alive and well, with a new under 18s team taking to the field for the first time in six years.
A lot has changed in a century and a half. Back in the 1800s, there was no structured competition, but Magpies president Kelvin Noonan said there were certainly games played.
"There was a lot of conjecture as to when we first were established," he said.
While the under 18s Magpies have taken a few beatings in their first season, they have already added a win to their board and have 150th-anniversary celebrations to contribute towards.
"The mindset behind the under 18s is that they are a new team and they're willing to learn and keep getting better," Mr Neill said.
"We're not result-driven. We've got factors that we focus on within the club that we're really set on and trying to really strive for them.
Rebuilding 150 years on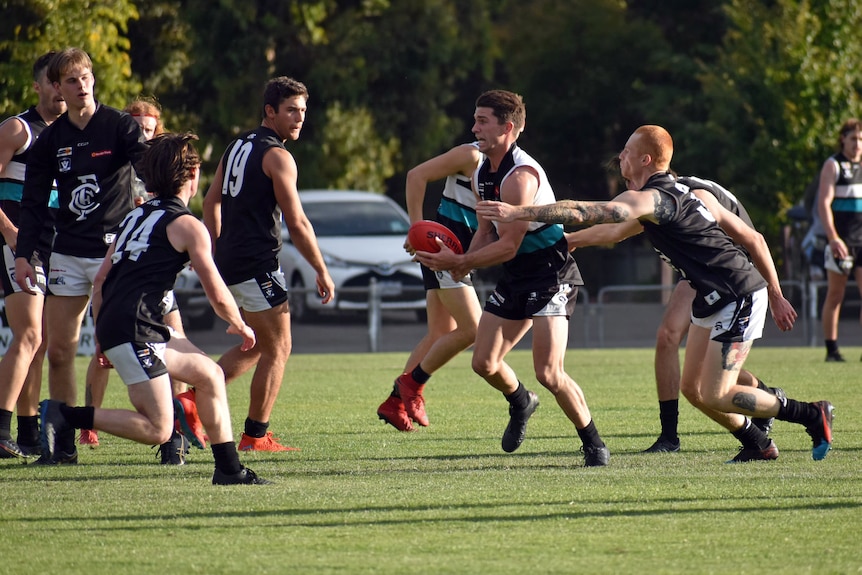 While there has been a finals dry spell for the Magpies in recent years, Mr Noonan credits much of that to the lack of numbers that will hopefully be boosted in years to come by the renewed under 18s team.
"Our Seconds' side has been rather depleted for the past six, seven, eight years. That was caused simply because of no under 18s coming through," Mr Noonan said.
Source: AFL NEWS ABC